Commissioning creativity: the role of modern mosaics in contemporary architectural and landscape design
01 May 2019
South Gallery Rooms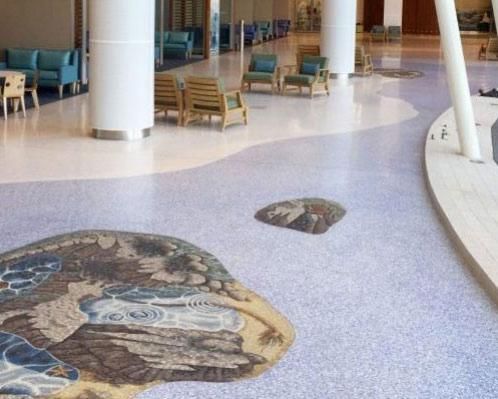 This session, hosted by award-winning mosaicist Gary Drostle, will explore the design philosophy, materials, technical capabilities, and aesthetic impact of contemporary commissioned public mosaics.
Gary Drostle is the former Chair and President of The British Association for Modern Mosaic, and a regular guest lecturer at the Chicago Mosaic School. Based in London, Drostle and his dedicated team specialise in site-specific art, painted murals, floor and wall mosaics and mosaic sculptures. This world-class practice has produced may large scale commissions across the UK and overseas. Drostle Public Arts recently won The Fifth Annual FCI Installation Awards in the Commercial Tile and Stone category for its installation at the Lucile Packard Children's Hospital in Palo Alto, California, USA.
Drostle Public Arts uses many different materials in its work, including Venetian Smalti: hand-made glass enamel that is available in a huge range of colours. Other material options include marble, which can be used in many ways from rough cut highly textured finishes, through beautiful riven surfaces, to a glass-like polish. The practice is also skilled in Litovi; a unique ceramic material hand-made in France that combines the durability of porcelain with the beauty, texture and colours of Smalti. Other material options that will be explored in this presentation include Unglazed Porcelain and Vitreous Glass.