Mosaics are at least 4,000 years old, with examples of the art found in ancient Mesopotamia, where pieces of coloured stones, glass, clay and other materials were used to create patterns and pictures. The Greeks developed mosaic art and the Romans took it to classical heights in Africa and Syria, the wealthiest of the Roman provinces. The mosaics preserved in Roman villas in Britain impress us today, although the Romans considered the work in this outpost of the empire crude compared with those in Herculaneum and Pompeii.
Some modern mosaicists working in the UK make up for the shortcomings of those in the classical world and examples of this work was on display in the Mosaic Showcase of the Hard Surfaces 2019 exhibition co-locating with the Natural Stone Show in London at ExCeL.
Mosaic artists make full use of the plethora of hard surfaces available to them today, just as they always have done.
The Mosaic Showcase was presented under the auspices of the British Association for Modern Mosaics (BAMM), which is this year celebrating its 20th anniversary, having been established in 1999 by a group of artists and art historians who wanted to pool their knowledge and promote mosaics.
BAMM is a membership organisation that encourages an interest in all aspects of modern mosaics – that is, mosaics made in Britain since the mid-19th century. Today, its membership of about 350 comes from all parts of the mosaic world and includes mosaic artists, art historians, teachers, hobbyists and suppliers.
BAMM members receive, as part of their membership, Grout Magazine, which is published three times a year, and an annual scholarly publication called Andamento, as well as monthly e-newsletters that keep them up to date with news and forthcoming events.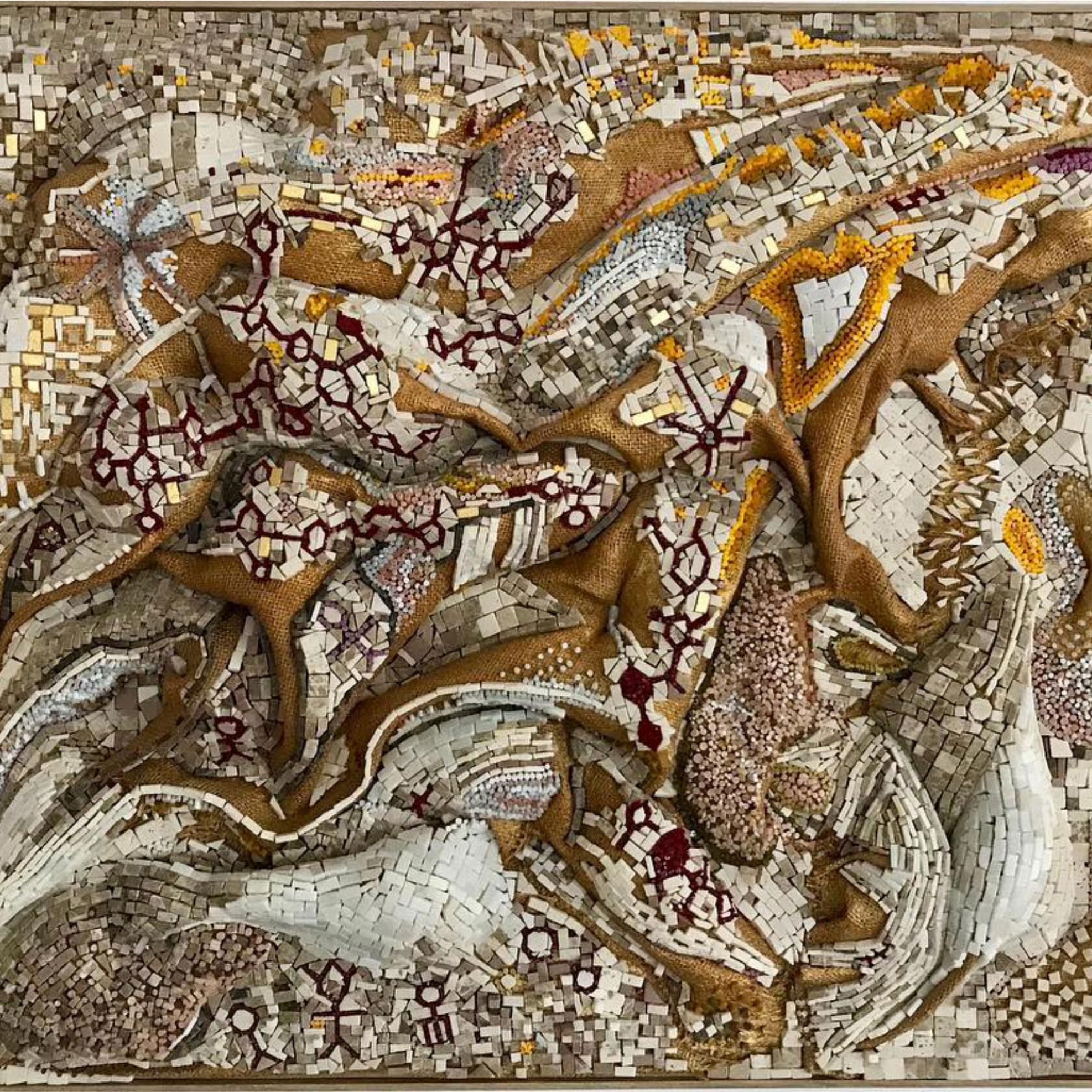 Ivan Djidjev
A gifted and versatile contemporary artist born in Sliven, Bulgaria, Ivan is as comfortable with some of the most ancient forms of art as well as the most modern. He is a trained and experienced mosaicist, having created traditional Byzantine-style mosaics, as well as contemporary pieces. His work can be seen in private chapels in Bulgaria and all over the world including a piece gifted to Pope Benedict XVI which is now at the Vatican. Ivan considers creating a mosaic to be like solving a puzzle. Mastering various techniques allows him not only to solve the puzzle but to control the shape of the pieces.
Having always had the desire to be an artist, his education started at age 14 at the Art College of Sliven, and after his graduation in 1994 he spent two years working in the studio of sculptor Vejdi Rashidov. In 1996 he moved to Vienna, Austria, where he studied in the National Academy of Fine Art under Professor Michelangelo Pistoletto.
Now working from his London workshop, Ivan will be bringing several pieces to the show including Angels and Devils, Quintessence (shown above) and Enlightenment.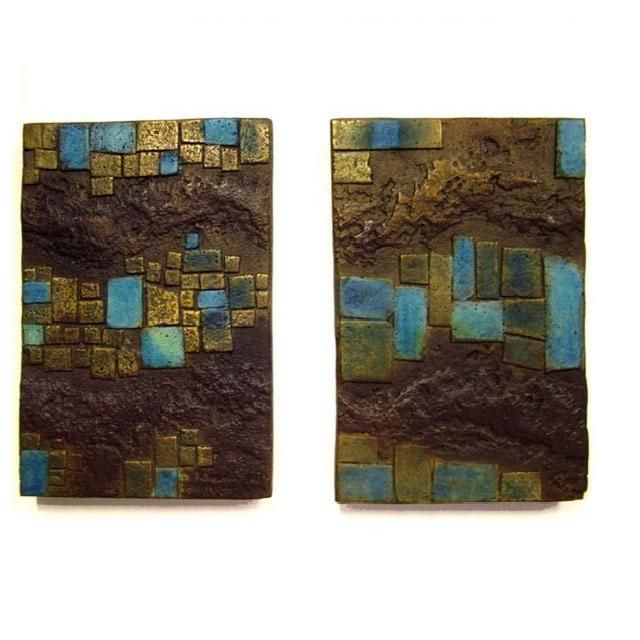 Tracey Cartledge
Tracey Cartledge restores architectural mosaics and creates bespoke works of art to commission for both public spaces and private property. In 2014, she restored the mosaic floors of Victoria Station, Manchester, as part of its £44million refurbishment.
Tracey plays an active role in community learning: working independently with schools; with adults attending Tracey's weekly mosaic evening class and studio workshops and delivering workshops for Manchester Museum.
Through Public Art, Tracey strives to add joy to daily life and improve the quality of our shared community spaces. She considers the historical and social context that the work will inhabit and engages with the people whose lives it will impact. To achieve a unique solution every time, her projects call for a broad palette of techniques, an innovative and enquiring outlook and the ability to work flexibly within a range of diverse situations.
Tracey's education has taken her from a degree in fine art through gas welding and desktop publishing skills, bronze casting, stone carving and several mosaic qualifications. She has been exhibiting her work since 2012.
Amongst her works that can be seen in the Mosaic Showcase are Greek Octopus, The Girl Who Fought for Education and The Blues (shown above).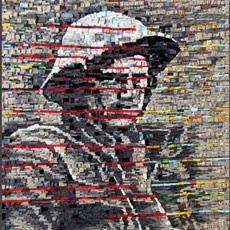 Gary Drostle
Gary Drostle designs, produces and installs large-scale mosaics for floors and walls using marble, glass and ceramics. His award-winning work can be seen in town centres, public buildings, hospitals, parks, corporate lobbies and private residencies across the world.
In his early career he founded the Haringey Mural Workshop and took his first major commission to paint a series of murals for Alexandra Palace – 'The History of The Peoples Palace', whilst serving as executive of Haringey Arts Council and working closely with many different community groups. His first major mosaic commission was 'Sunburst – the light at the end of the tunnel', commissioned by the London Borough of Islington, and marked a turning point in his career.
With over 30 years' experience and a former President of the British Association for Modern Mosaics, Gary is now a regular guest lecturer at the Chicago Mosaic School and has given keynote speeches, workshops and juried exhibitions in London, San Francisco, Phoenix, San Diego, Austin, Chicago and Detroit for the British and American societies for Mosaic Artists. Gary will be bringing The Solider (shown above) to the Mosaic Showcase together with video footage of his work in situ.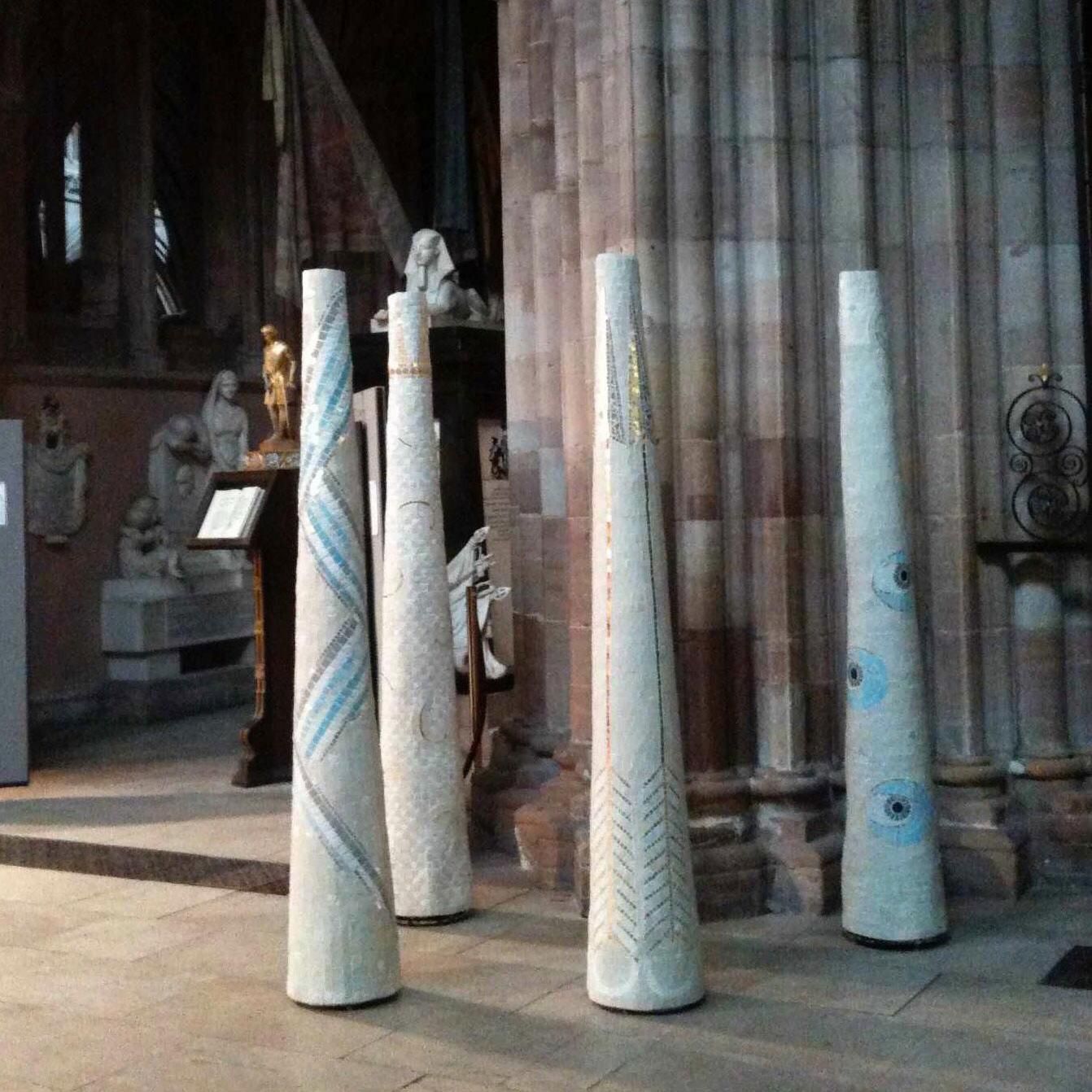 Norma Vondee
Her experience as an art teacher and artist in residence at a range of schools has no doubt been the basis for the opulent signature style dominant in Norma's work. The recurring themes of the human figure, skyscapes, architecture, technology, water and ancient mosaic iconography are the channels through which she aims to earnestly portray aspects of modern life.
Her deep commitment to public art is borne of her desire to provide specific people and places with objects of cultural significance, enriching lives regardless of status or income and providing a true sense of ownership.
A past president of BAMM, with an MA in Art and Architecture, Norma has lectured at cultural events at The British Museum, The Whitechapel Art Gallery and The Tower of London and been involved in creative training work with Disney in London and Paris. She runs her own course - The London Mosaic Weekend, which has extended her influence on many cultural organisations, artists and the general public. Her large pieces, Diva and The Pillars (shown above) will be exhibited in the Mosaic Showcase at Hard Surfaces.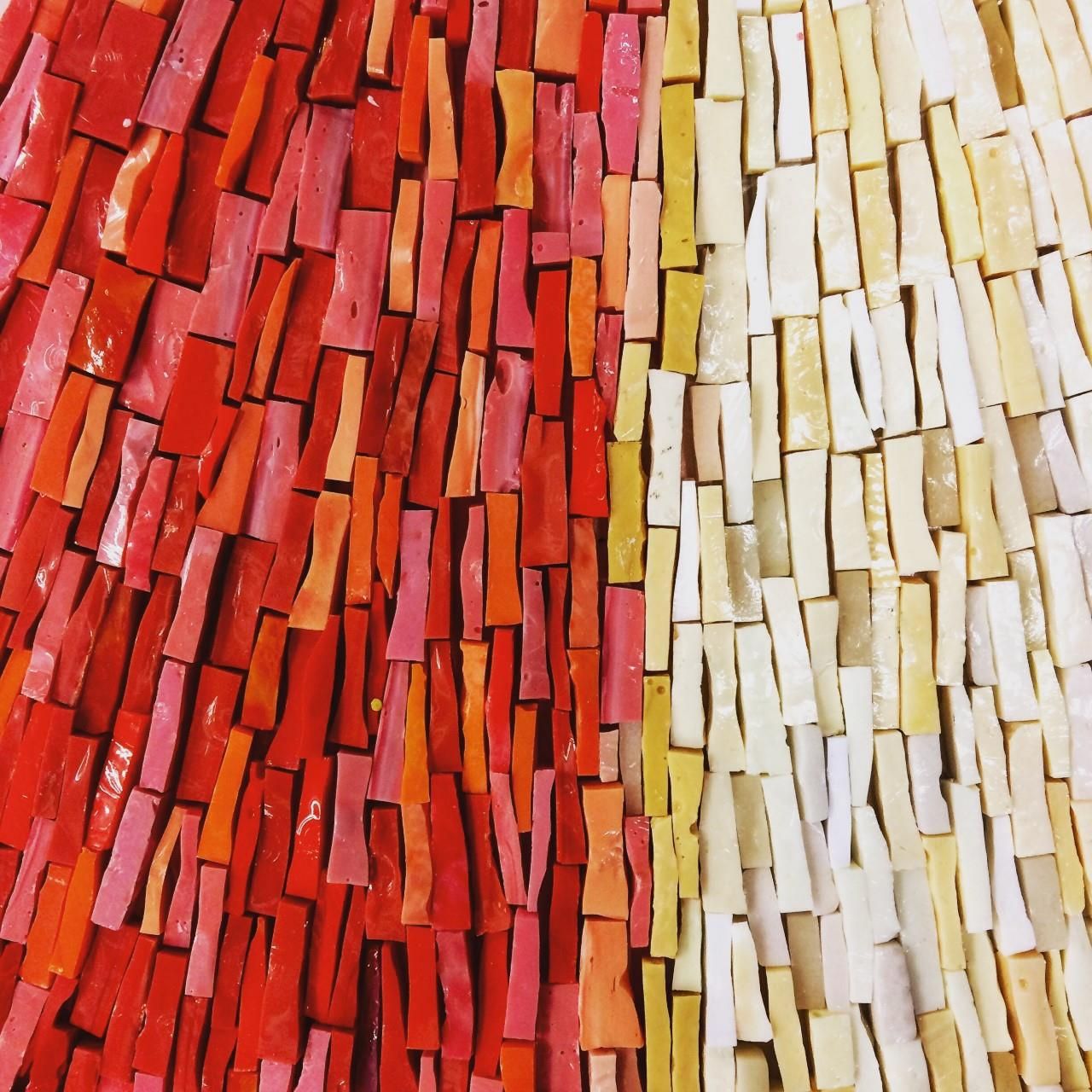 Julie Fallon
Julie moved from Devon to Belfast in 1986 to study textiles at the University of Ulster in Belfast and began working on mosaics in 1990 in her backyard. By 1991 she had started Opus Mosaics and took on commissions for interiors and exteriors, and whilst working on site was asked to attempt a restoration as there was no specialist in Belfast. With her experience working with tilers, she had gained the relevant skills and was confident enough to repair and restore, and went on to specialise in restoration and consolidation of historic tiled and mosaic surfaces.
Now, with over 25 years of experience she has worked on several nationally significant listed buildings throughout Ireland and Scotland and offers a consultancy service surveying and advising on the best options for repair. She performs small repairs on site but has the facility to reconstruct larger damaged pieces in her workshop and has collected extensive stocks of reclaimed Victorian tiles over the years to ensure that a colour match can be achieved.
The Old Map and an Indian commission (shown above) that Julie is working on will be displayed at Hard Surfaces.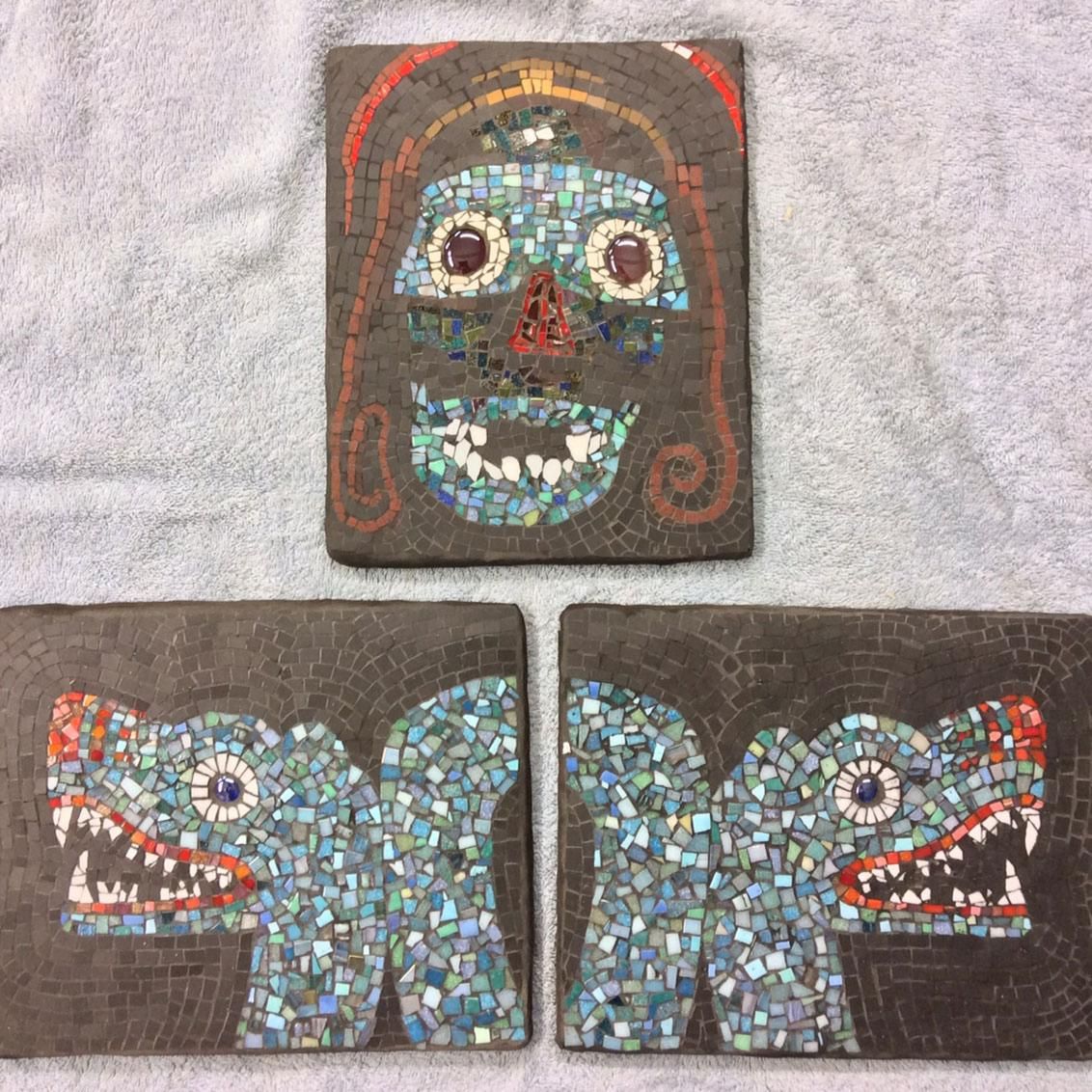 Laura Symes
Originally from the Hebridean island of Lewis in the extreme north-west of Scotland, Laura studied history and art at university and travelled at every opportunity, becoming interested in crafts during her time living in South Africa.
On her return to the UK through some special needs work in schools she was introduced to mosaics and as she became aware of the tactile nature and the possibilities of the medium, was inspired to endorse it as a means of encouraging creativity and expression.
She furthered her skills, attending workshops and training with several well-known and established mosaic professionals and through volunteering at Southbank Mosaics and Art4Space was involved in public-realm projects, including the Queenhithe Timeline Heritage Mosaic and portraits of notable local women on the outside walls of Morley College in Lambeth.
She is primarily interested in colour, form and texture and connecting with the viewer in some meaningful way, as can be seen in her Mexican Tryptich (shown above) that will be displayed in the Mosaic Showcase.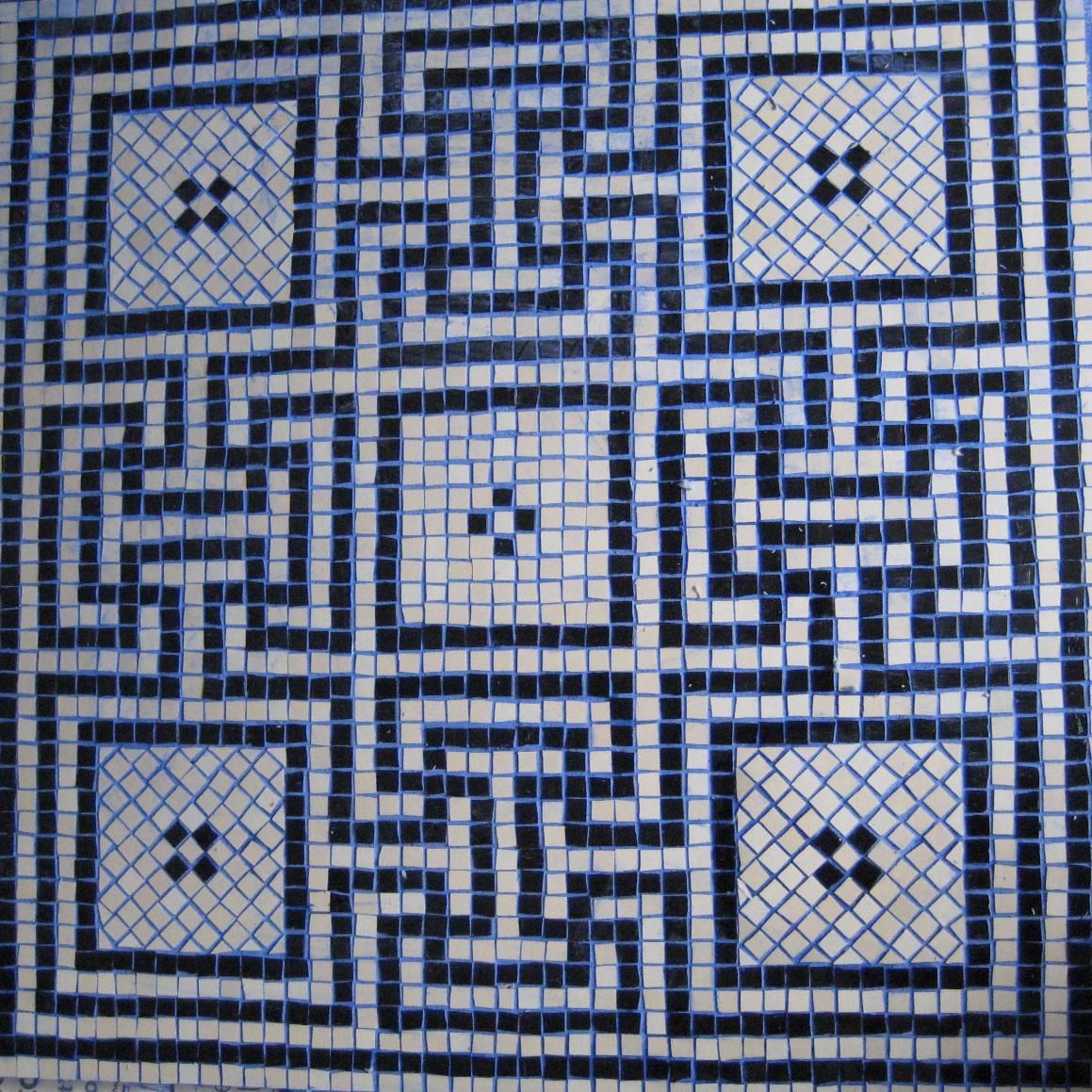 Cinde Lee
Enjoying a cosmopolitan education with training in fine art in New York, music in London and Milan, and apprenticeships in Ravenna, Spilimbergo, Belgium and the Netherlands, Cinde is equipped with a wide range of artistic skills and interpretation styles combined with a discipline rooted in freedom of expression. Cinde's journey of discovery throughout her artistic endeavours lead to an ever-increasing fascination with mosaics. Colour restriction of mosaic materials proved an initial challenge but the infinite array of textures, the beauty of natural stone and minerals and the wonder of tactile interaction with the tesserae afforded her a liberty that she continues to explore.
Working on varied commissions including pet portraits and monuments with active involvement in international projects, she teaches mosaic as a part of art therapy for the National Health Service. Her pieces The Table (shown above) and The Peacock will be displayed in the Mosaic Showcase.